Welcome to our new website! HaroldHerring.com
God has been moving in mighty ways over the last few years ... opening up new doors of opportunity. In order to take full advantage of everything God is doing and everything He has laid before us we are making a transition to a new website. It will allow us more freedom to reach out and be a blessing to our partners and the Christian community in general.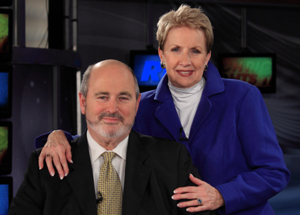 Don't worry! the Debt Free Army is not going away. We simply needed a website that gives us more flexibility for the future and HaroldHerring.com is the vehicle.
My fine wife, Bev, and I are so very excited about the future and we want you to be a part of this awesome journey!
God has done tremendous things through the Debt Free Army, so I wanted to take just a moment and let you know where the Debt Free Army came from and why it means so much to Bev and I.
___________________________________________________
The Debt Free Army Story
In every movement there are the pioneers. The Debt Free Movement is largely the result of one pioneer, John Avanzini, known as Brother John to millions around the world.

Brother John had a divine visitation while speaking in Aba, Nigeria. During his encounter God said, "I want my people out of debt and I'm giving you the anointing to carry it out."

While traveling in eastern North Carolina in 1991, Brother John met a young man named Harold Herring. After spending less than an hour talking with Harold, Brother John said, "In all my years of ministry, I haven't met anyone who understands what I've been called to do better than you." With that, Harold was invited to move to Texas and join the ministry.

In 1993, during a time of intense prayer, the Lord told Brother John Avanzini and Harold Herring to build Him a Debt-Free Army that would equip His children with practical, financial insight and the spiritual and personal motivation to destroy the bondage of debt in their lives.

God's directions were clear. . .

"JOHN AND HAROLD, I WANT YOU TO BUILD ME A DEBT FREE ARMY!"

With those words, Brother John and Harold knew something powerful was about to sweep their earth. . .there would be a fresh anointing to break the bondage of debt over every believer.

"I WANT YOU TO MINISTER TO THIS ARMY OF BELIEVERS WITH STRONG MONTHLY MINISTRY!"

It must be ministry that is of the highest quality. I don't want it to be a fund-raising letter. It must contain the meat of my Word not the milk of the fund-raiser. SPARE NO EXPENSE! For the Debt Free Army will be one of the choice weapons that I use against the devil in these last days.

"I WANT MY ARMY TO BE TOTALLY DEBT FREE AS SOON AS POSSIBLE!"

I have promised the world that my children will feed the hungry, clothe the naked, and take the gospel to the nations of the world. Unless my Army is quickly delivered from debt many of my promises will have to go unfilled.

"I WANT MY DEBT FREE ARMY TO BE A SYMPATHETIC ARMY!"

The Debt Free Army must not abandon its wounded. Whenever anyone in the Army falls back into a debt dominated lifestyle. My Army must immediately restore them in their war on debt.

"I WANT THIS CLEARLY UNDERSTOOD -- THERE WILL BE NO REAL VICTORY UNTIL THE WHOLE ARMY HAS VICTORY!"


Harold and his wife, Bev assembled some of the finest financial writers in the United States. . .all experts in their chosen fields to write proven money-saving strategies that would save believers hundreds of thousands of dollars.

During the first year of the Debt Free Army (DFA), twenty-four pages of easy-to-implement financial strategies were mailed each month to the Charter Members of the DFA.

After previewing the entire Debt Free Army program, Dr. Creflo A. Dollar called Brother John on the phone to tell him he thought the Debt Free Army materials were the most powerful financial information that had ever entered the Christian community.

Over the years, the material evolved into the Debt Terminator kit which has been responsible for thousands of believers becoming debt free because they followed its plan to financial independence.

Even though the ministry spent nearly $100,000 in developing the material, no one was ever denied the material even if they couldn't make the suggested monthly gift.

For over fifteen years, the Debt Free Army has sponsoring FREE rallies and seminars in cities around the world. Everyone who attends one of these events leaves with a wealth of financial information that can change their financial destiny.

The calling, vision, and the passion of the Debt Free Army makes is distinctive in the marketplace of ideas and the Christian community.

BLOG COMMENTS POWERED BY DISQUS